今週の bar miyako の営業ですが、23日(木)は祝日のため、お休みさせていただきます。また24日(金)、25日(土)ともに、19時〜21時まで貸切営業のため、通常営業は21時からとなりますが、ご了承のほど、どうぞよろしくお願いいたします!
Please note that bar miyako will be closed on Thursday, November 23 for a national holiday. Please also note that due to private parties, regular operations on Friday, November 24 and Saturday, November 25 will start at 9 pm, instead of at 7pm. Thank you so much for your understanding and we hope to see you again soon!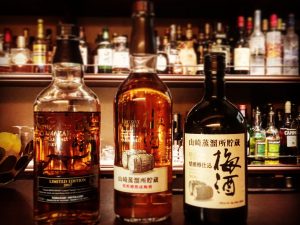 Photo caption: 最近の新入荷ですが、山崎シングルモルトの2017年リミテッドエディションに加え、山崎の梅酒を2本仕入れましたので、気になる方は是非飲みにいらしてください!
New additions this week include a limited 2017 edition Yamazaki single malt whisky and two Yamazaki plum liqueurs (umeshu). Please come in for a taste!!